7 Car Radio Connectors for Installing Your VW Radio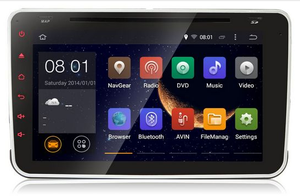 Each radio model will have unique car radio connectors. Usually the connectors are color coded. That means the new Android car stereo that you want to attach to the VW will have the same colored wires at its back and the same colored connectors will be present in the car sleeve.
Start by finding the right radio installation kit and wiring harness for your VW radio. A few foreign cars require a radio mounting kit and an antenna adapter. Check with the car manual before starting out and read about the parts that are included in the kit to ensure that you have everything. Open the installation kit and read the instructions that are listed. Open the car dash kit and then remove it carefully. Your car manual and the installation kit both will have detailed instructions on how to perform the installation. Verify the car stereo connectors present at the back of the factory radio. Just connect up the color coded wires correctly to get the job done.
Here is a simple list of the connectors that you will find in all cars:
1.Red positive is the 12v ignition wire.
2.Black negative is the grounding connection.
3.Yellow positive is the 12 V battery wire.
4.Blue/white positive is the remote connection.
5.Blue positive is the power antenna connection.
6.Orange/black is the dashlight and dimmer connection. Some radios will also have the same connection in the form of an orange/white combination or plain orange connector.
7.A few radios will also have white, gray, green and purple wires that connect to positive terminals at the front, left, right and back left, consecutively. The same colored wires will have the same wires combined with black to form connections, but to the negative terminal.
It's not a good idea to connect a car radio if you don't have wiring knowledge. If you've purchased a premium car radio or if you get confused at any time, get in touch with a professional.